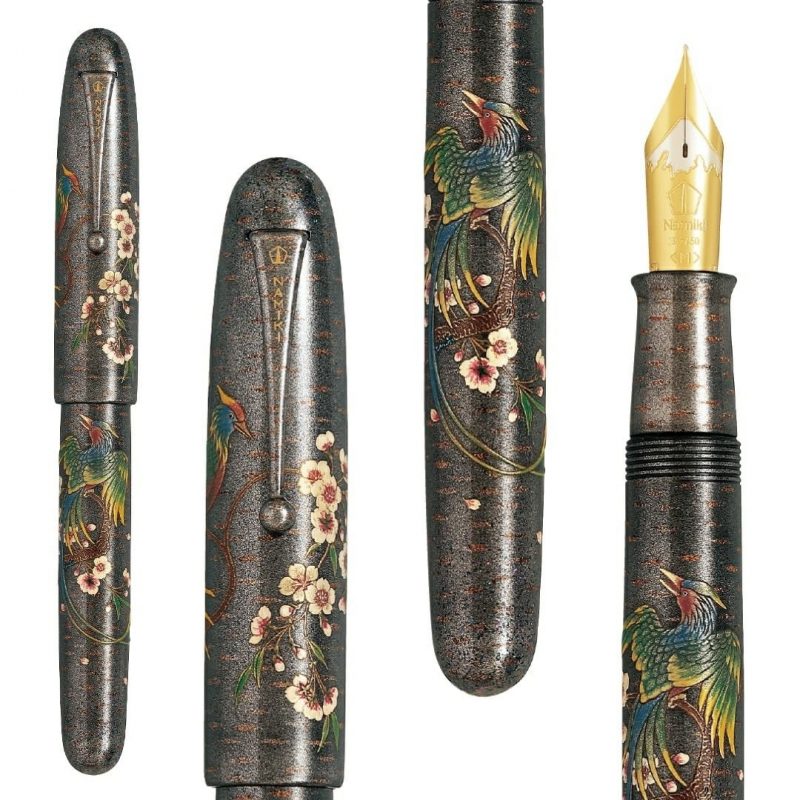 Namiki introduces the latest edition, Rakucho Birds and Weeping Cherry Blossom, to the Emperor Collection.
The Rakucho is an imaginary bird flying in paradise. The fountain pen features a pair of male and female birds serenading each other with lovely song. The affection between the pair of birds represents long-lasting and happy marriage.
The birds are created using Taka (Raised) Maki-e and Silver Hirame, silver plate with Togidashi (Burnished) Maki-e. Greater emphasis is placed on the design of the birds through the use of additional materials and lacquering to create an impression of spectacular opulence.
The petals on the weeping cherry blossoms are inlaid with coloured Raden (Mother-of-pearl) and polished to a lustrous finish. The trunk of the cherry tree in the background is painted using Oh-hi-nuri, a traditional Kawari-nuri painting technique, where contrasting colours are layered and sanded smooth to reveal the complex and intricate bark patterns of the cherry tree trunk.
The continuous pattern represents a wish for eternity. This stunning level of art requires a long tradition of inherited skills and are created by the collaboration of Japanese maki-e artists (Kokkokai). Master artisan Masahiro Yamada's (山田満佐博 – 銘 満佐博) signature in calligraphic Kanji script appears on the artwork.
The pinnacle of the Namiki series, the Namiki Emperor fountain pen comes with size No. 50 18k bi-colour gold nib (MF, M and B) engraved with the outline of Mount Fuji and Namiki branding, and a generous capacity eyedropper filling system.