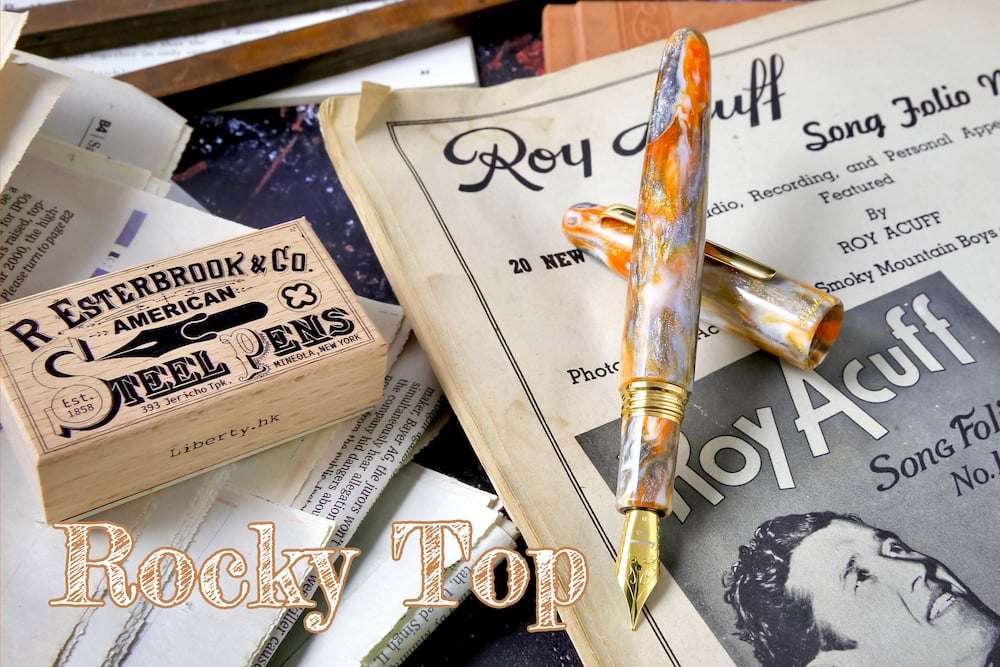 Esterbrook introduces two new Limited Edition Esties crafted from blended and turned acrylic by McKenzie Penworks.
Peacock
Depicted in temple art, writings and music, the Peacock has been revered for thousands of years and its significance in Indian folklore cannot be overemphasized. One of the most important deities, Lord Krishna was known to have adorned his head with the peacocks' feathers and in illustrations of Shiva, the God of War, he is often accompanied by the peacock as a sign of strength. As the national bird of India, the peacock symbolized wisdom, royalty and power. To illuminate the magnificent colours of the peacock, the Diamondcast material specially developed for the Estie Peacock gleams just like the glimmering feathers of this majestic bird.
Rocky Top
Rising along the border of Tennessee and North Carolina, Thunderhead Mountain is crossed by the Appalachian Trail. On the western part of the summit, is the Rocky Top knob, a popular hiking destination and inspiration for the Estie Rocky Top. Its colors of orange, silver and white are a celebration of one of the most scenic sights in the American south.
Each edition is available as regular size rollerball pen, and regular and oversized size fountain pens. The fountain pen fills using cartridge/converter (converter included) and comes with Jowo steel nib (EF, F, M, B and 1.1 Stub).
A custom nib by nibmeister Gena Salorino is also available as part of the offering. Named "The Journaler", the custom nib is a medium stub grind based on the vintage Esterbrook 9314M nib and provides smooth writing suitable for daily use.
RSP w 7% GST
S$490.00 Regular Size Rollerball
S$520.00 Regular Size Fountain Pen
S$590.00 Regular Size Fountain with Journaler Nib
S$590.00 Oversize Fountain Pen
S$665.00 Oversize Fountain Pen with Journaler Nib