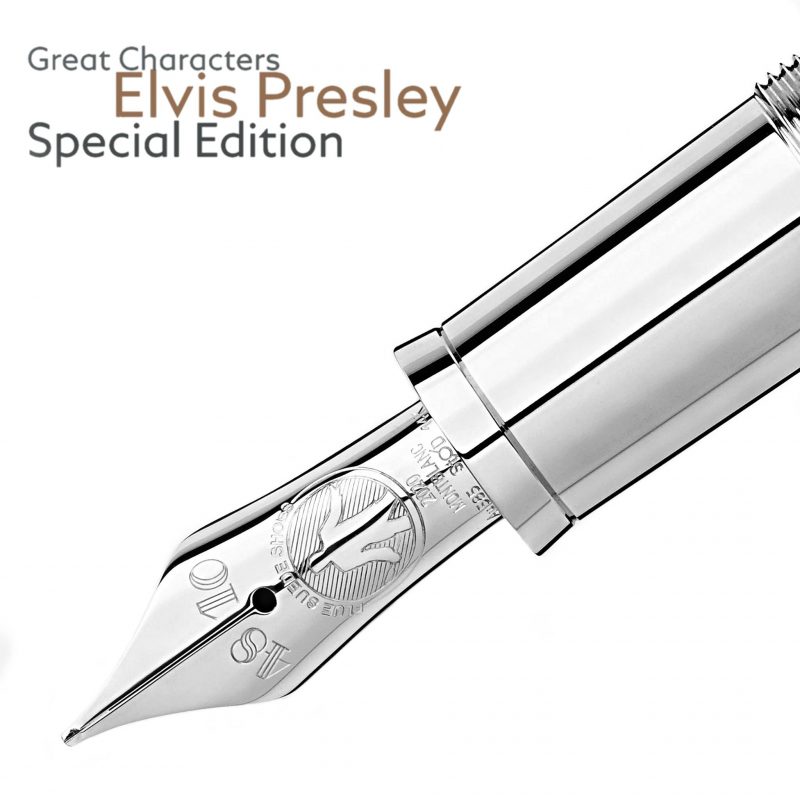 In 1956, a tall and handsome southern boy from Tupelo, Mississippi shook up America with his unique voice and moves. Elvis Aaron Presley, known as the King of Rock and Roll, turned the music industry upside-down, breaking through the barriers between Black and White music to create a unique style built on his charisma and powerful voice.
The black precious resin of the pen is reminiscent of the leather suit Elvis wore during the 1968 concert that marked his return to the stage after serving in the US army. The pattern on the black precious resin is inspired by one of his gold rings.
The central ring on the pen barrel features the inscription "Elvis has left the building", famous words that informed ecstatic fans at the end of his live shows that there would be no more encores.
The overall shape of the pen is in the form of a V8 engine's spark plug, inspired by Elvis's passions for luxury automobiles and their sleek tail fins and powerful V8 engines. The cone is embossed with Elvis's quote "Ambition is a dream with a V8 engine". The V-shaped clip and its 8-hole design are reminiscent of the engine block, and the EP logo inspired by the logo on the bridge of Elvis' sunglasses.
The cap top finial is adorned with a special emblem which is a combination of the historical Elvis logo and the iconic Montblanc logo.
The Special Edition is available as fountain pen (RSP: S$1,500.00), capped rollerball (RSP: S$1,275.00) and ballpoint pen (RSP: S$1,170.00). The fountain pen comes with a handcrafted Au 585 solid gold nib engraved with the title of Elvis' unforgettable hit "Blue Suede Shoes", and fills using piston-filling system.
To extend the writing experience of the Great Characters Elvis Presley, Montblanc has created a special edition 50ml ink bottle Old Glory Blue (RSP: S$55.00). The deep blue ink colour is inspired by the stars and stripes from Elvis's clothes.