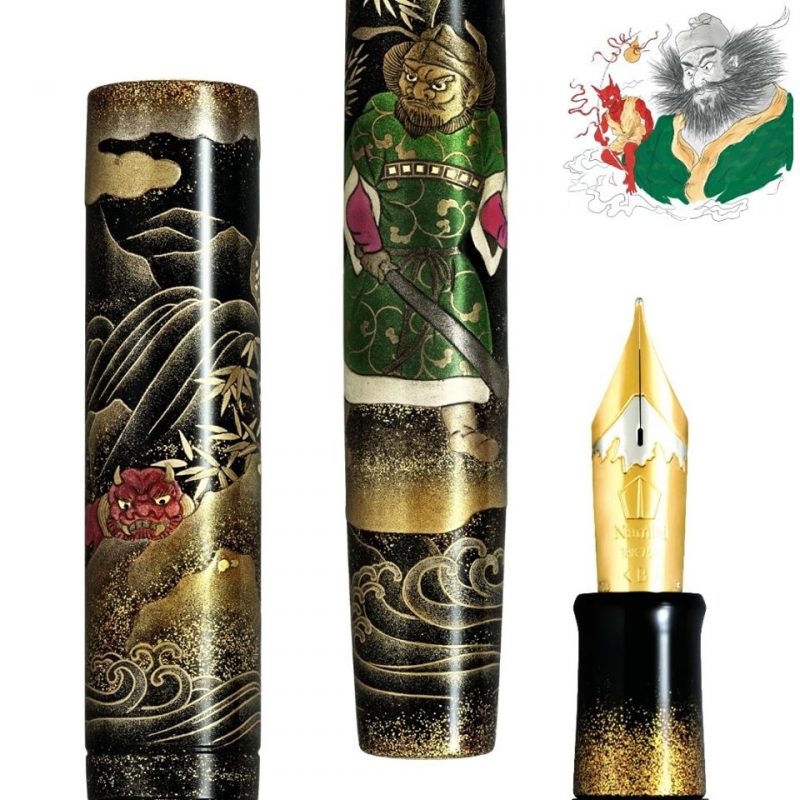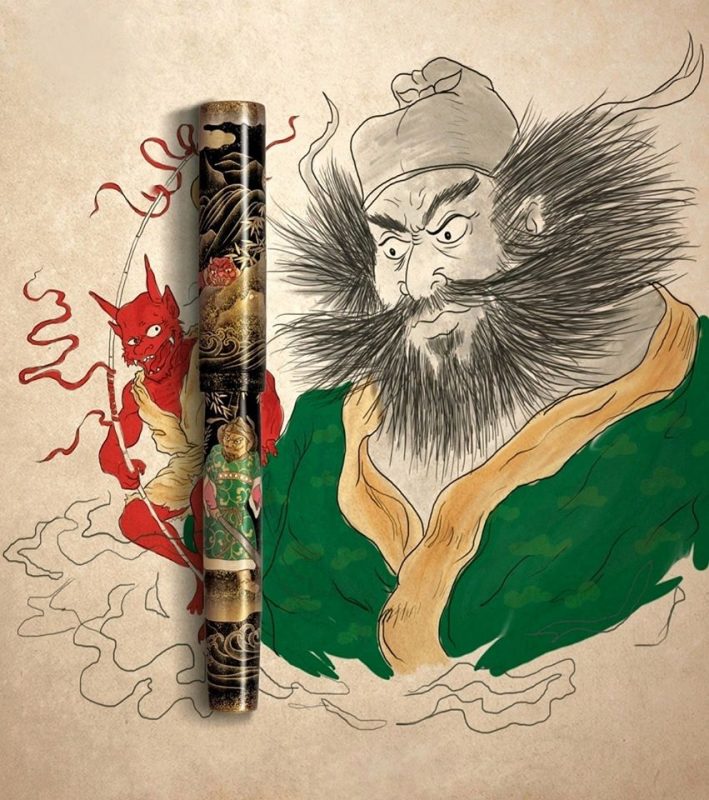 SHOKI is a legendary Chinese mythological figure that is reputed to possess talismanic powers.
The legend dates back to China's Tang Dynasty (618–907). When the sixth Tang emperor, Xuanzong became ill, he had a nightmare in which he was possessed by evil spirits. In the dream, a large demon appeared and vanquished the evil spirits with ease, Xuanzong then asked the large demon to identify himself, and the demon gave his name as SHOKI.
When Xuanzong awoke from his nightmare, his illness was completely gone. To mark that mysterious event, he immediately had an artist draw a SHOKI. The emperor later discovered that the artist's drawing depicted SHOKI exactly as he had appeared in the dream. It is said that, from that time on, Xuanzong worshipped SHOKI as a deity.
Thereafter transcending national borders and ages, SHOKI has come to be venerated among people as a deity that wards off evil spirits or plague and invites good luck.
Generally, the SHOKI is depicted wearing a beard, holding a sword to ward off evil in his right hand, and with large, glaring eyes and a scowling countenance.
On this occasion, Namiki has adorned a fountain pen with an image of the trepidation of evil spirits as they run around in an attempt to escape a SHOKI in all of its dreadfulness. At the center of the scene is a SHOKI depicted using Taka Maki-e (Raised Maki-e) and thereby bestowed with an overwhelming presence.
The bamboo accents are depicted in Togidashi Maki-e (Burnished Maki-e), the rocks and clouds wherein the evil spirits are hiding are expressed in Shishiai Togidashi-Taka Maki-e (Combined Raised and Burnished Maki-e), which require sophisticated techniques to accomplish. Despite being in the background, the techniques used give these elements and accents an overall sense of three dimensionality.
The depictions embody the wish that disease and disaster be driven away from those who own this fountain pen, so that their homes will remain in harmony and in good health.
Only 99 of this limited edition have been launched worldwide. Based on the Emperor vest type, the fountain pen was produced by KOKKOKAI Maki-e artisan Yutaka Sato.
Its rhodium-accented, 18-karat gold nib and high-quality ink delivery system ensure premium writing performance.
The pen is housed in a special presentation box, finished in the same dark green lacquer as the SHOKI's Kimono and adorned with an arabesque design. This magnificent set is completed with a specially made bottle of ink which features a drawing of bamboo on its cap, as well as a serial number plate depicting the sword the SHOKI carries in his hand.
Appealing to collectors the world over, the 2019 Namiki Limited Edition "SHOKI" fountain pen promises to be a highly sought-after gem for many years to come.