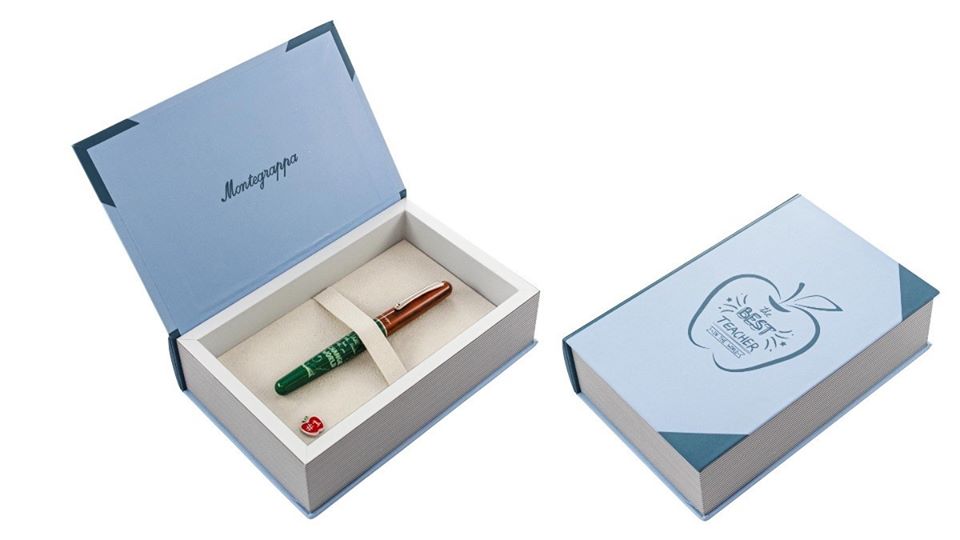 Fruit of appreciation
For those who give so much to our children's futures, gestures of appreciation should be more than token. The Teacher's Pen by Montegrappa delivers an appreciative embrace and a message of optimism and unity. "ONE child, ONE Teacher, ONE book and ONE pen can change the world." – the famous words of the young Nobel Laureate, Malala Yousafzai.
High-quality resin body finishes evoke timber classroom furniture and green chalkboard. The green chalkboard colored barrel carries a message which reinforces the value of education. The pen design is based on the Elmo 01 – a compact, all-round silhouette that recalls the early 20th century, when Bassano-made fountain pens were widely used in Italian learning institutions.
"The Best Teacher in the World" is the inscription on the box, which is shaped like a hand-bound book. An apple-shaped enamel pin inscribed with "#1" is included as a bonus gift – a way to stay close to the moment when working with chalk rather than ink.
The fountain pen is available with a stainless-steel nib available in EF, F, M, B and Stub widths. Cartridge/converter fill with the converter included.
RSP $455.00 (Incl. GST)